News
Oladipo Diya: Abacha's Deputy Buried Amidst Tears (Photos)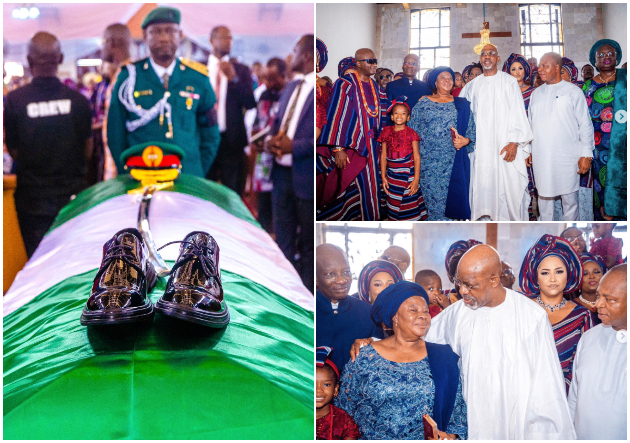 The remains of General Oladipo Diya, the late former chief of general staff, have been laid to rest in his hometown Odogbolu, Ogun State.
Diya, appointed chief of general staff to the late military dictator, Gen Sani Abacha, died on March 26.
Before his appointment by Abacha, Diya was the military governor of Ogun State from January 1984 to August 1985.
The burial was attended by the governor of the southwest state, Dapo Abiodun.
Dignitaries who attended the ceremony included acting Inspector General of Police Kayode Egbetokun, Ogun government officials, federal lawmakers, former military administrators, and captains of industry.
Speaking via Twitter on the burial, Governor Abiodun said:
"It is with a heavy heart and profound gratitude that we pay our last respect to a remarkable leader, a dedicated patriot, and a true statesman, the late Lieutenant General Oladipupo Diya, former Chief of General Staff."
The article was originally published on Politics Nigeria.